Exams are coming up which means it's time to hunker down and start studying. Sometimes the best thing to do to kickstart your studying is a change of scenery. If studying at your house or on-campus just isn't cutting it, check out these five Fredericton hotspots go get some work done.
1. Fredericton Public Library (12 Carleton St.)
Photo: GNB
With plenty of resources, free Wi-Fi and lots of seating the library is a fantastic spot. It is an especially great spot is you prefer to study in silence and need a distraction free place to get some work done.
2. Coffee and Friends (415 King St.)
Photo: The Maritimer
Coffee and Friends is a great place if you're looking to study solo. Their small tables are perfect for one person to settle down and work. They have tons of different delicious drinks to keep you awake while you study along with some great snacks. Their friendly atmosphere is incredibly calming during exam season.
3. Milda's Pizza (732 Charlotte St.)
Photo: Fredericton Tourism
Milda's Pizza is a hidden gem, that can be found in the basement of the Charlotte Street Art Centre. It is a great place to go for a lunch time study-date. Their wood-fired pizzas are the perfect way to reward yourself for all the studying you've been doing. They have plenty of seating, and overall a nice cozy spot to settle in for an afternoon.
4. Café Loka (343 York St.)
Photo: Fredericton Tourism
If you're looking for a place to spend the day getting ready for exams, Café Loka is the place for you. With free Wi-Fi and tons of food choices (including vegan, vegetarian and Gluten-free), this place makes you feel right at home while you power through some work. Their friendly environment will help you stay stress free and focused while working.
5. Café Beaverbrook by Chess Piece Patisserie (703 Queen Street)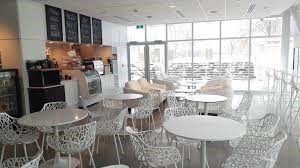 Photo: Cafe Beaverbrook By Chess Piece Patisserie
Chess Piece has added a new location to the Beaverbrook Art Gallery! This is a great spot if you're looking to grab a drink and a dessert while you study. Their bright, warm café has a great atmosphere and is perfect for doing readings.